Administration Team
Ms. Sandhya – Head of Admissions & Administration

Customer Relationship and Public Relations experience since 2009 in various International companies.
Since 2013, managing admissions at German International Academy with an outreach to bring in new students.
Working inter-departmentally to ensure the parents and students have the best experience throughout the enrollment process and orientation.
"The best part of my job is working with students and families every day and telling them the success story of German International Academy. Very often I have visitors who are impressed by the student-centered nature of our campus!
Working with children has always been my passion. German International Academy has a positive, caring, encouraging atmosphere and provides a strong nurturing, culturally diverse environment for the children. It's more than just a school, It's a place of community for a better learning.
As a head of Admissions, it is my duty to help prospective families navigate the school search and application process. I have been with the admissions office since the summer of 2013, and I can tell you that the love for this school and pride that our students and parents feel for German International Academy is contagious!
I hope you get an opportunity to come visit this unique school and see first-hand what it means to be a part of German International Academy!."
Ms. Prabha – Curriculum & Resource Manager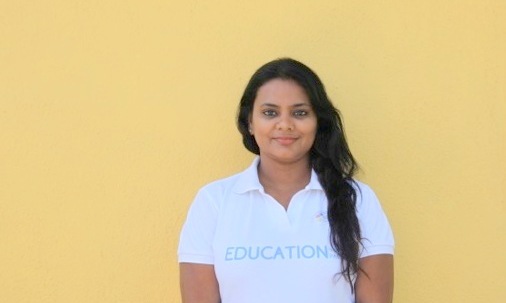 Contributing to the development and successful implementation of the school's operational curriculum and quality plans.
Creating curriculum action plans that contribute positively to the achievement of the school improvement plan and, where appropriate, actively involves all teachers.
Establishing and maintaining high levels of professional conduct and effective liaising with Teachers/Interns to improve quality education and students' achievements.
Ensuring 'quality of learner' experiences.
The curriculum at GIS is diverse, thought-provoking, creative and promotes love for learning. I believe children learn best through practical 'hands-on' learning opportunities; This enables them to experience learning in a meaningful way that reflects their interest and needs.
My role at German International Academy also ensures that the delivery of teaching and learning is of the highest standards and enables to structure the curriculum to broaden our students' emotional and multicultural awareness, values and reward success and balances the need for hard work with a sense of enjoyments for school life as a whole.
Personally, I would like to thank the Management for my recent promotion. I will strive to ensure development and delivery of an outstanding student -teacher experience here at German International Academy

Ms. Anita Karvinkop – Senior Coach/ Compliance Manager
More than 16 years of teaching experience, demonstrating leadership with operational, quality assurance, and human resource procedures.
Building strong, sustainable relationships with management and workforce teams within each facility to achieve and maintain the excellent record for preventing instances of non-compliance
Conducting periodic internal reviews or audits to ensure that compliance procedures are followed.
Working towards improving communication channels and contributed to expedient complaint resolution
As a compliance manager, it is my responsibility to ensure all activities at school are carried out within the regulatory framework.
My endeavor is to understand and nurture staff/teachers to develop lifetime personal skills during their training and teaching process. German International Academy provides a professional environment and it makes teaching and learning an enjoyable experience.