Meet Our Companion Animals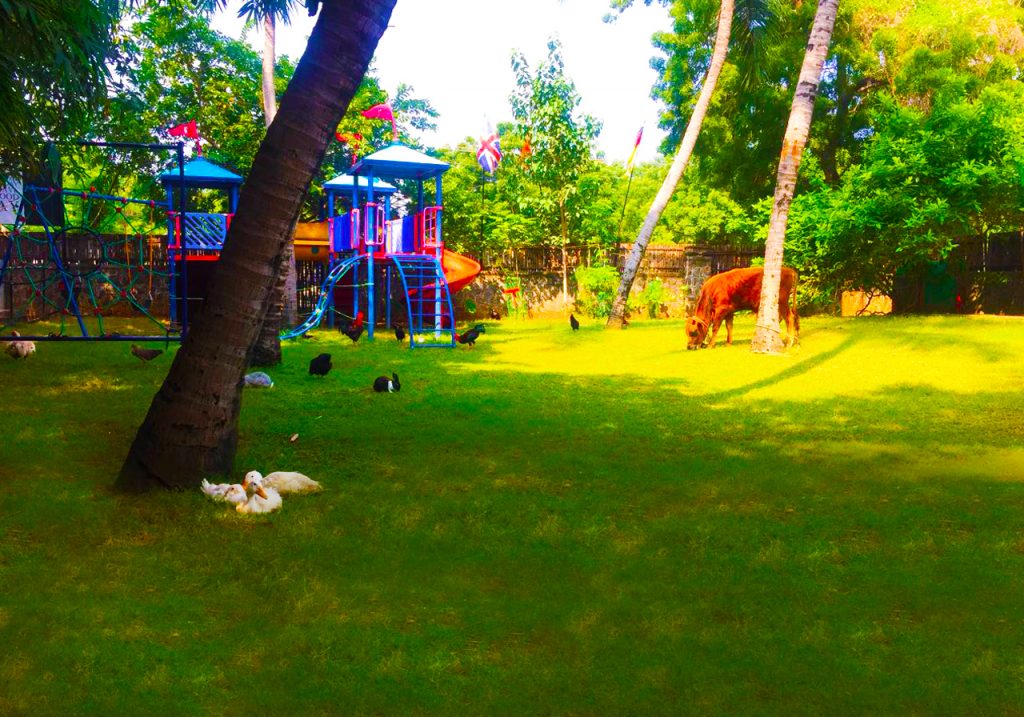 At German International Academy, we live by and teach the Golden Rule: "Do unto others as you would have them do unto you."
We enable children to have compassion and empathy for their furry, feathered, and finned friends are vital for preventing cruelty to animals as well as in raising them to respect and treat those who are different from them with kindness.
We have several animals at the Academy ranging from chickens to goats and there are several reasons for having these animals as our companions, covering all the areas of our curriculum.
Our students love meeting our highly trained and socialized and practising safe interactions and learning firsthand about compassion for all animals. All our companion animals have shelter or rescue backgrounds.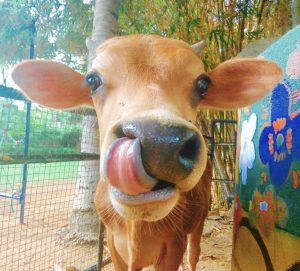 We also have our own fluffy calf as a school pet and he is amazing! Along the way, cows were given the label of a dumb beast and it is so far from the truth. The idea that cows are dumb is a myth. Cows are actually very intelligent, curious and able to think critically and solve problems. Studies have shown that cows are capable of learning associations and using past experiences to determine their future actions. When faced with a challenge, cows get very excited with elevated heart rates and brainwaves. Some cows even jump in the air as if they are yelling, "I did it!"
Cow therapy is the best therapy. Cows are love. We simply cannot stay in an anxious, or wounded state when you're with a cow. Lean against a cow or brush a steer and your veins will soon course with love. Now that you know the different side about cows to be sure to come and meet, Mr. Jim Bob.
The school rescued him from a Cowman when he was six months old as an orphaned calf. He has quite a personality. He loves to be brushed. He loves attention from children. He seems to be very attentive and watches everything that goes on around him.
---
Meet Mr. Karma and Ms. Cleopatra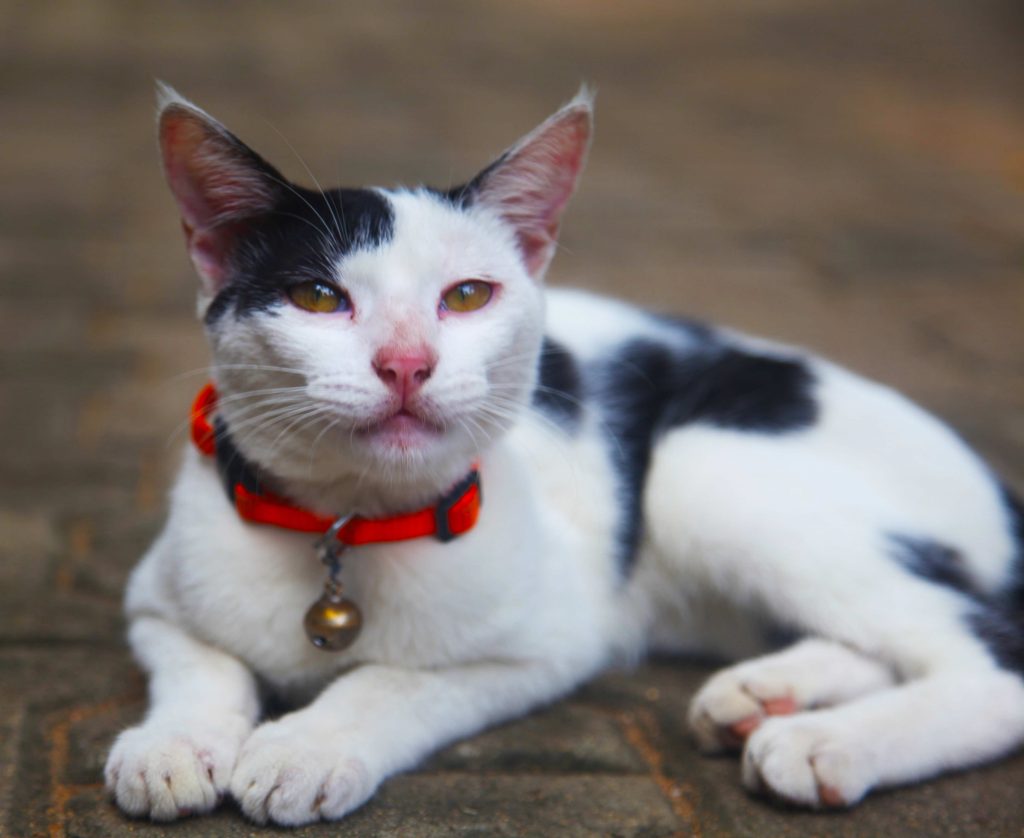 Karma is the star of the Academy with a great heart and tremendous capacity to bond with everybody.
Karma is playful and extremely affectionate and he enjoys attention from students, staff, and visitors. Lately, he turned into a purr machine and a lap cat. He enjoys sitting by the school's reception with some human company on a busy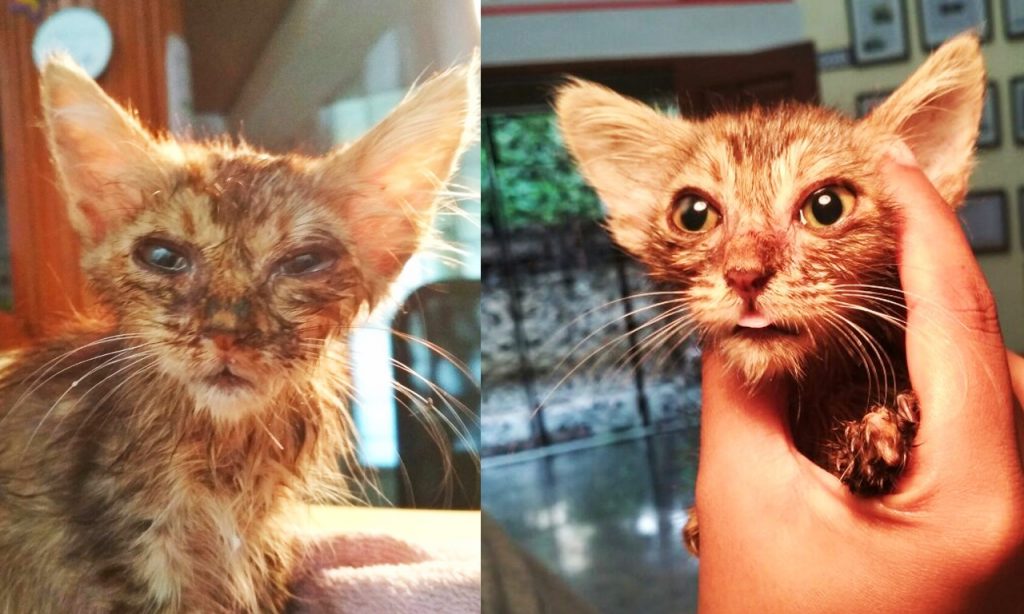 school day.
We found Cleopatra as a hungry, shivering kitten almost being mauled by a stray dog.
She was barely a week old when the school rescued her. Initially, she was cautious around people but she is gradually coming out of her shell and showing her sweet, playful nature.
She is receiving some warmth and love of all our students, Cleopatra now has a special place at the Academy and behaves like a queen.
---


When we rescued this Great Dane, she was in chronic stress. It looks like she was tied up all her life forced to spend in a kennel or a cage. She was lacking proper care in feeding, grooming, and to health needs.
She was in such bad shape from severe neglect that she wouldn't have lived much longer. From the beginning, Ms. Georgina has wowed us with how sweet, gentle, intelligent, and well-adjusted she is. She is with us since February 2017 and we named her Ms. Georgina and she's the biggest and oldest of all.
---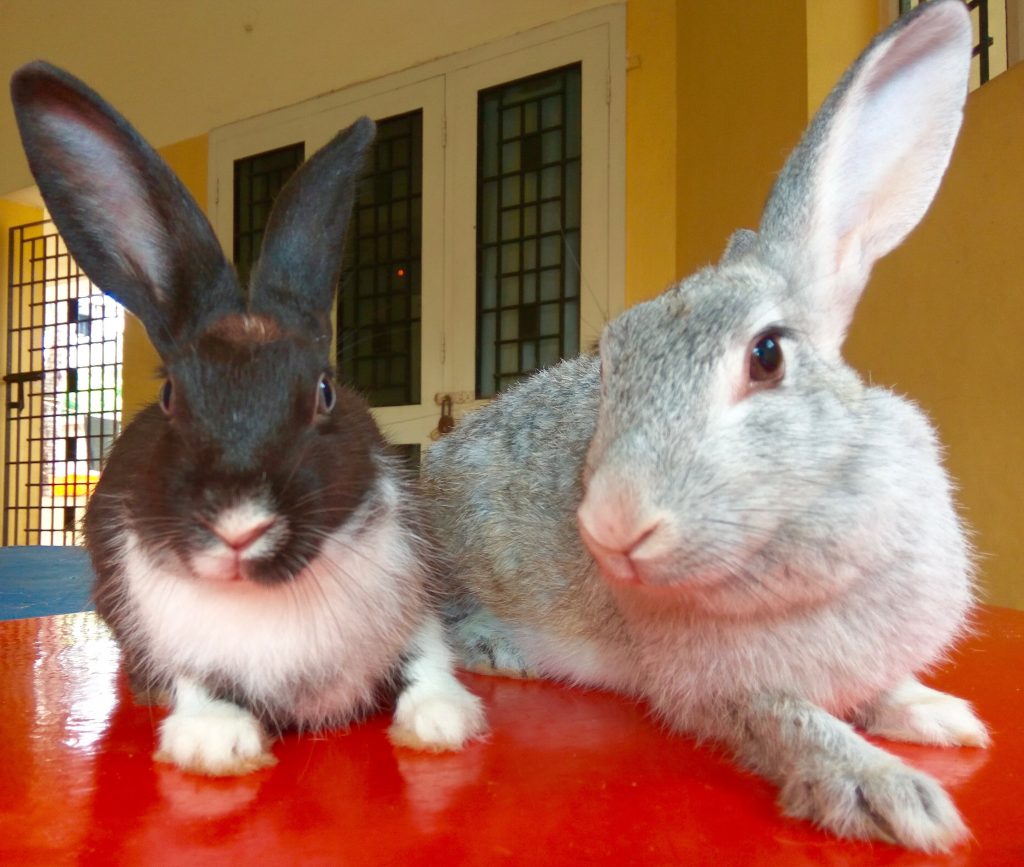 Meet Ms. Ralpho & Ms. Phoenix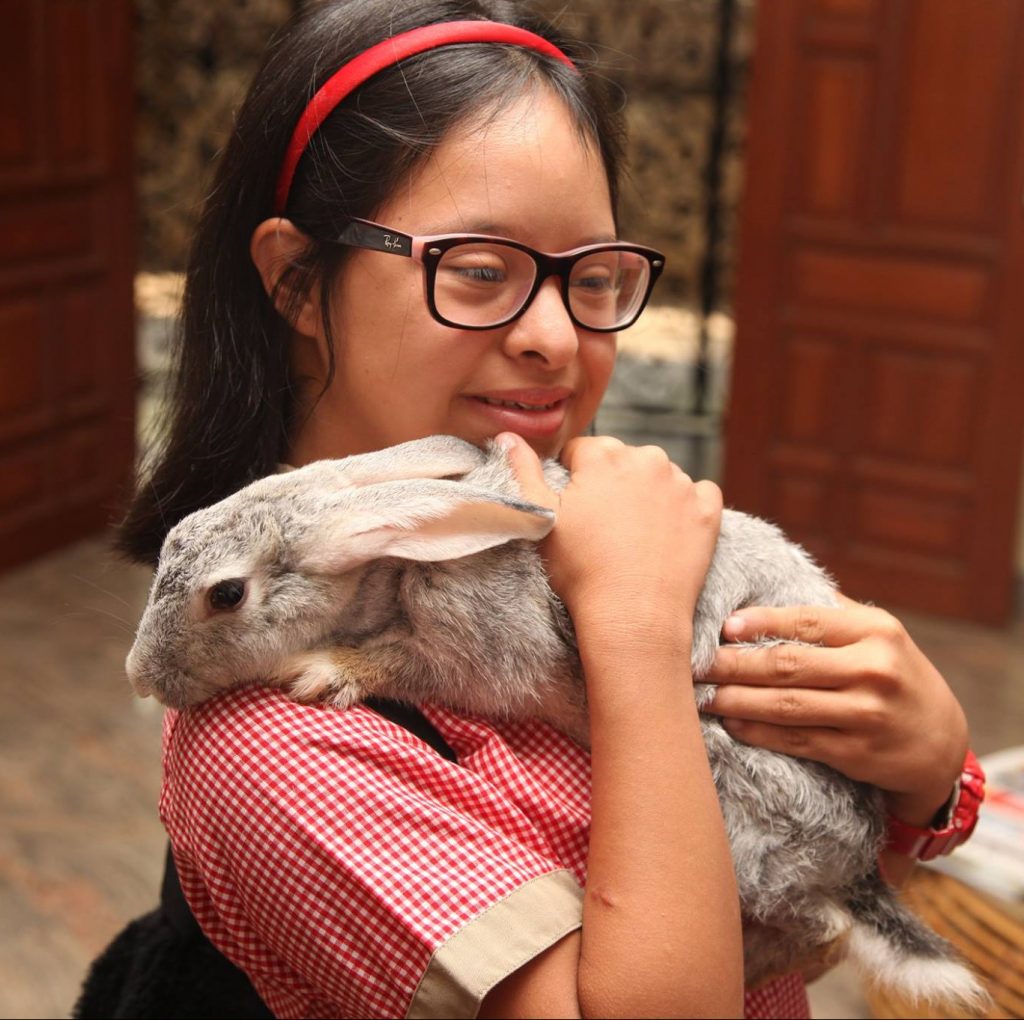 Ms. Phoenix was a 'breeding rabbit' and we rescued her from a deplorable condition from a breeder in Besant Nagar (Chennai). In her tenure of making bunnies for the breeder, she has made more than 100 offsprings. We intervened and rescued her.
We named her Phoenix to give her hope! she is very friendly who loves attention and getting cuddles. She was indeed a happy girl. It took few days for her to be relaxed and since then, she seemed to be settling in very well. From misery to loving comfort. One of the staff members adopted two babies of Ms. Phoenix. Ms. Phoenix now lives with her son, Mr. Ralpho at the Academy
---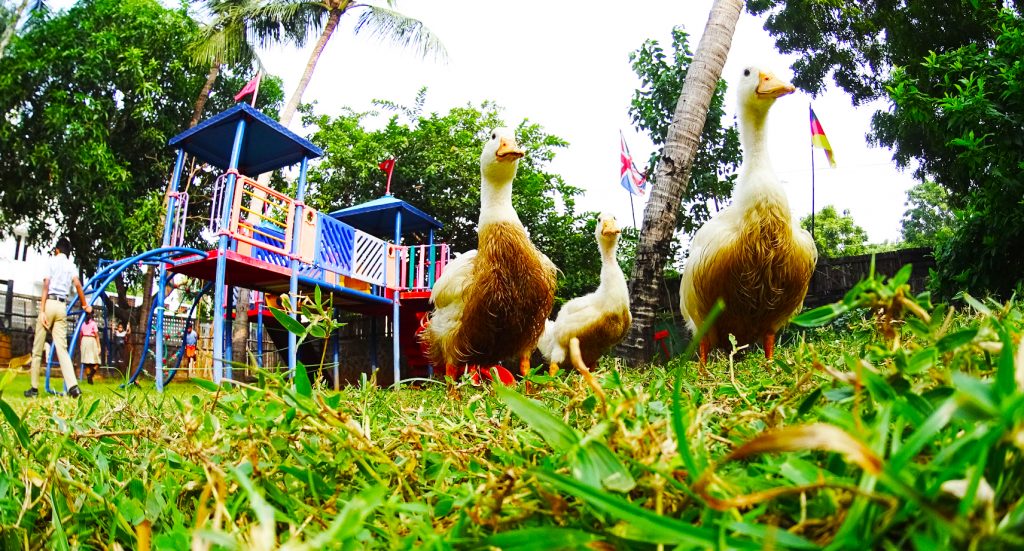 We rescued Mr. Bejamin, Mr. Tin Tin and Ms. Marika as they narrowly escaped decapitation by their previous owner.
The leader and the biggest of the flock is Mr. Benjamin and he has quickly acclimated to the school premises and the other animals around. He's the friendliest duck you will ever meet and he is also making new human friends.
When we visit or bring them treats, they recognize the voices and will come running over to greet us. Our three ducks are another example of how all animals are individuals, just like your dog or cat, who are deserving of the same love and compassion.
---
Many people think that there is a big difference between farm animals and the animals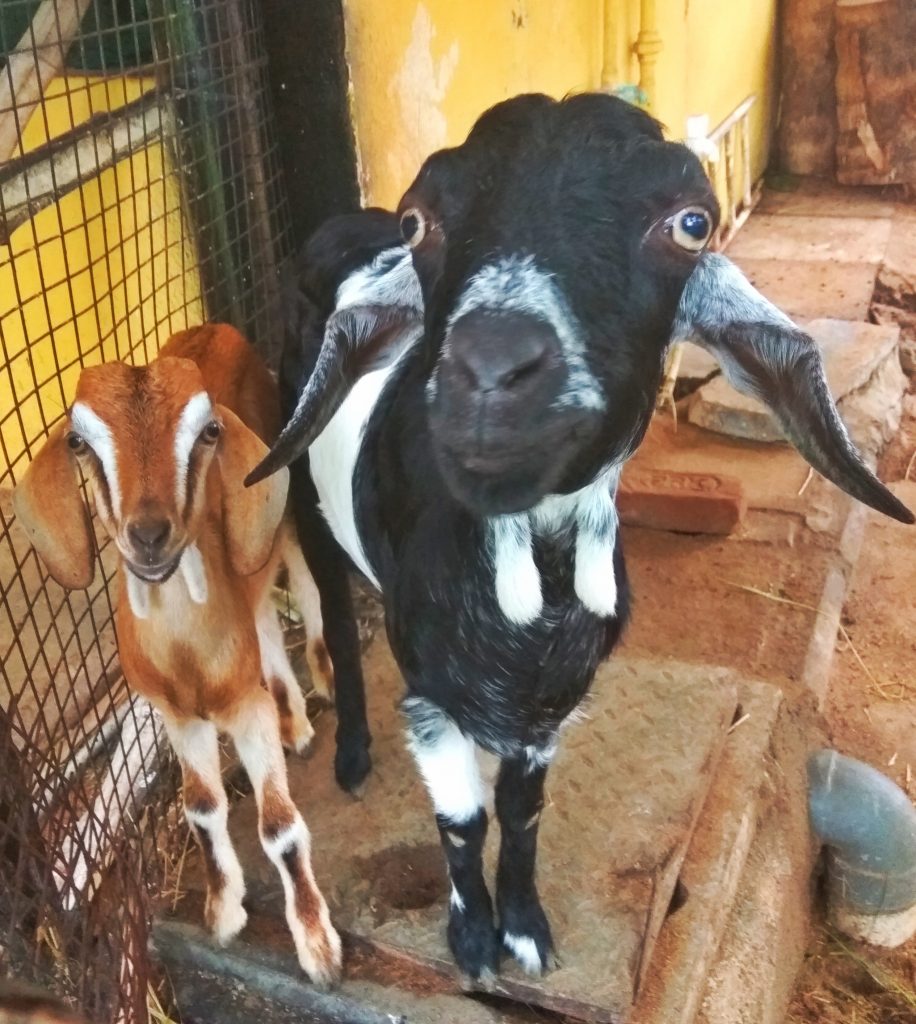 they consider pets. We happily take dogs and cats into our homes and make them a part of our families, but this is not the case for farm animals. Despite the fact that many farm animals are highly intelligent and enjoy the company of humans just as much as a cat or dog, we have created a line between these two types of animals and consequently only see farm animals as commodities or even food.
Meet our rescue goat, Ms. Madonna. She is a diva and an adorable part-time job lawnmower. She along with her new goat friend Mr.Ricardo clears any unwanted vegetation while not having to employ loud machines or use harmful chemicals on the school lawn. They love to trim the lush green carpet of our lawn, obligingly fertilizing as they work.
---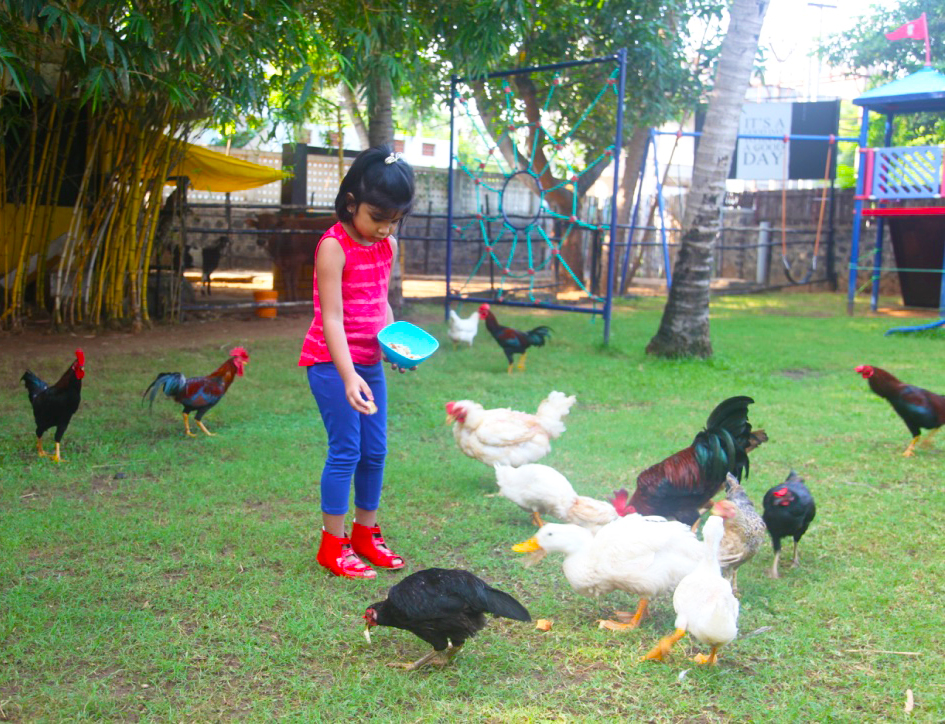 We had the opportunity to save and adopt few chickens and a rooster from a slaughterhouse in Palavakkam. They were confined 8 to a small cage; they had never seen the sun. Now they are a wonderful addition to our school's garden and living the life they are supposed to! They eat bugs off of the plants, their excretion is a wonderful addition to our compost, which is then added back into our garden soil and the cycle continues. Each chicken has its own distinct personality, they do silly things to entertain themselves, which in turn entertains us and best of all, and they make you slow down.
Why chickens ? We thought it would be great if the students of German International Academy Chennai could witness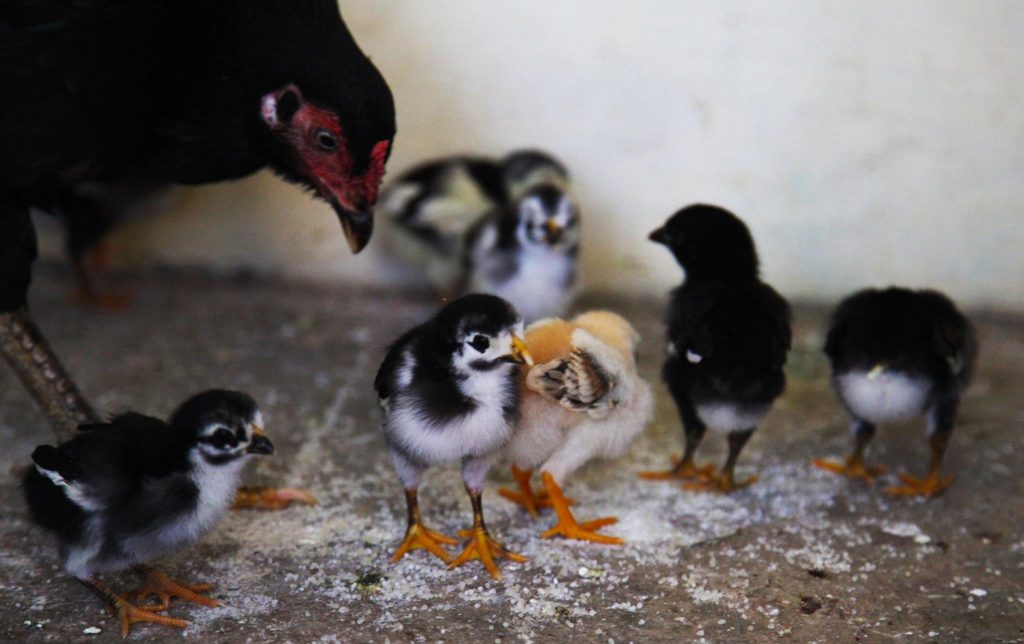 firsthand where our food comes from. Chicken nuggets just don't fall from the sky and eggs just don't appear at the store. We feel that it's imperative that our children start learning at an early the age the importance of healthy food choices and the benefits you reap when you work hard. Chickens also provide an important learning opportunity both in terms of caring for livestock and further closing the "ecological loop" of the garden.
Our rescued chicken Annie hatched 9 chicks and she will be raising them. As we appreciate the lives of these amazing survivors, we must never forget that there is no such thing as "humane" eggs or animal products of any kind. The cycle of breeding, using, and killing is inescapable and inevitable in all egg production, indeed, it is the foundation that all animal farming is built on, and without which it would not, and could not, exist. The only way to help the hens, the roosters and their captive parents are to stop or reduce buying and consuming eggs and products made with eggs.
---

Meet Ms. Moneypenny, our rescued dog. As a pup, she was left abandoned. We met her at the beach and almost being eaten by 5 crows.
We took her in. She's the most perfect, well-behaved, sensitive dog. It took almost a full year but she looks fabulous now and you'd never guess the rough life she had before.
Ms. Moneypenny doesn't bark, bite, jump, growl or do anything frightening. She heads the 'Read for dogs' programme for primary children at the Academy. We understand that not all children are comfortable around dogs. Some children that have not had an opportunity to be with dogs have a fear of them. As a child interacts with a gentle dog like Ms. Moneypenny they develop a better understanding of a dog.
---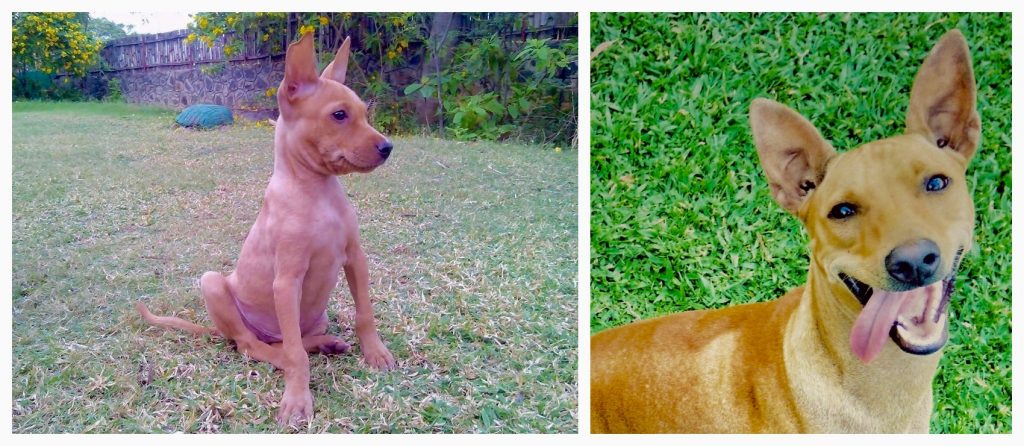 Meet Mr. James, our handsome fella. We rescued James as a pup from the side of the road, sleeping in the garbage.
He was shy at first but quickly warmed up. He's the happiest, smartest, sweetest, and friendliest dog now. He loves every person he meets and he is a bundle of joy.
---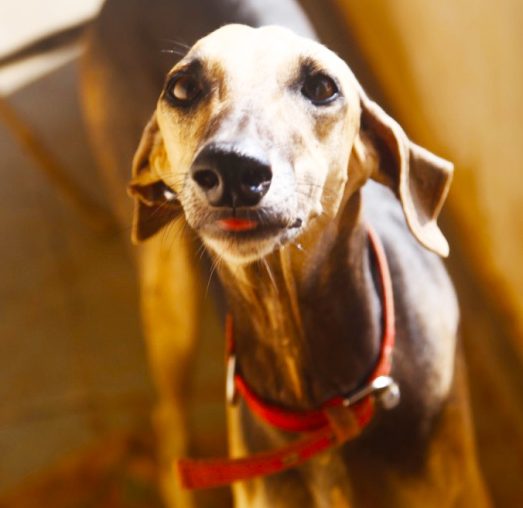 Meet Mr. Yogi. He is a goofy, young dude and a mixed South Indian sighthound breed, Chippiparai.
He just wants to be everybody's best friend. He's is very receptive to human and dog body language and non-verbal cues.
He shares a lot of breed similarities with a Whippet. He was abandoned by his previous family and when we rescued him he had anxiety issues. In just one week's time, Yogi has made drastic improvements now, he adores people and thinks everyone is there to shower him with affection and will be your best friend if you offer cuddles and a good neck scratch. Yogi has a crazy expressive face and a beautiful body that has gotten lots of compliments.
---