Parents
Besides their children they are the most important members of our school because they trust in us, rightly.
Please have a look at how some of them rate the school.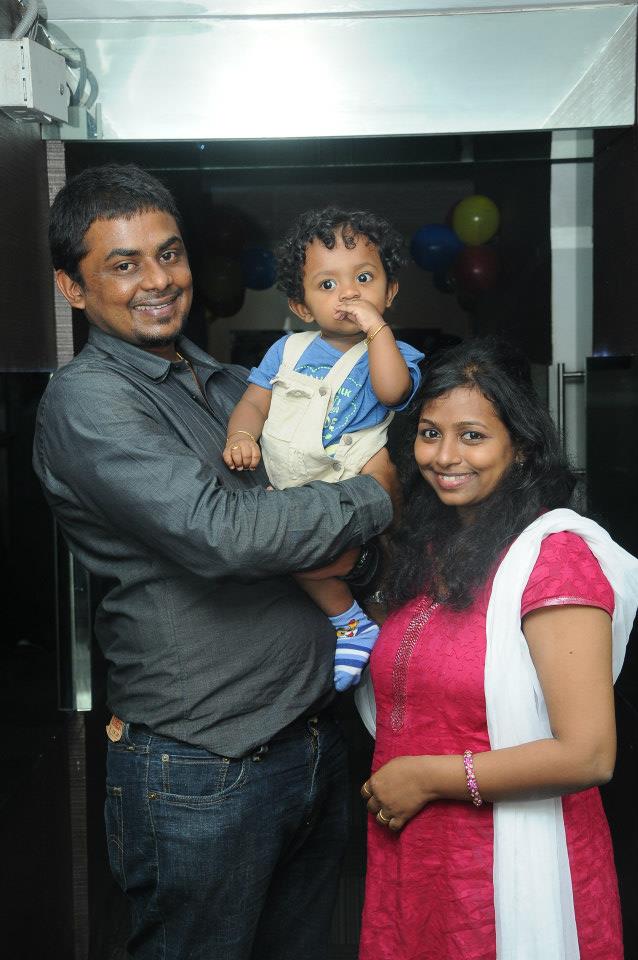 Family Mr. Maria Sundarapandian &  Mrs.  Reena 
We had our son at The German International School, Chennai. We are very pleased with the level of care that is given to our son, GIS has exceeded all of our expectations. Being first time parents, we were very apprehensive about leaving him for the whole day, but the KG teachers and coordinators made him very comfortable to a point that he insisted on staying and playing even after school hours. The management is extremely thorough and very professional at handling the kids, parents and their staff.
Their staff is supportive, helpful, and genuinely care about all GIS children including ours. The KG teachers have offered advice when we have requested it and definitely met the needs of our child. The staff is the most loving group you'll ever find.
The unique & structured meal plan offered to the kids is a proof of the quality institution the founders have envisioned to build. They were very accommodating in helping us structure a food plan for Shawn and followed it up with special food prepared for him.
Above all, we saw huge improvement in our child getting used to different cultures, accepting a foreign language which in a way moulded his overall character as a global citizen. The inter-cultural atmosphere in the school definitely helps any child grow to become a responsible, understanding and a great leader of tomorrow. We are very glad that we set a good base for my son to build his future by enrolling him in GIS. "
– February 2015
---
Family Dr Visvanathan & Kalyani 
We searched and trolled the internet from England looking for options for schooling for our children aged 5 and 2. Even though many schools had "International" to their names, it was only that –  a tag to their names. Not many truly followed the pedagogic principles we had experienced abroad. At the end of our long and hard search I chanced upon the GISChennai website.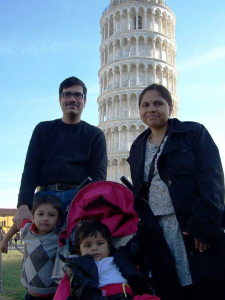 During my next visit to Chennai, I met Ms. Melanie Rolf (Principal) who took us for a school tour around the premises. It was a child friendly atmosphere, teachers with an international background and a truly international culture. I enrolled both the children and the next two years were indeed most satisfactory. There was never a day when Halasyam or Mythili felt apprehensive about going to school. In fact there were days when the little one needed to be told that the school is closed in weekends!
Caring and friendly teachers, impeccably maintained facilities and a school management which cared for the inputs from parents made it all worthwhile.
Two years have moved like a flash and the children have learned so much during the two years, enjoying the learning process and cheerfully helped by their teachers. Due to the change in my professional life I am now moving far away from East Coast Road which has necessitated a change in the residence and school. However, we will have no hesitation to recommend this school to any prospective parent looking for a truly international school for their children in Chennai!
 – June 2014
---
Family Lange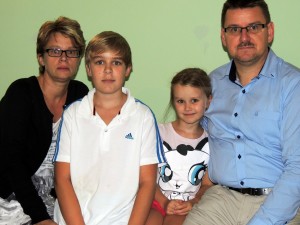 Our children are students of German International School Chennai since 1/9/2012.We did not regret our decision to choose the smallest of the 3 international schools in Chennai.
Our daughter (5) is happily visiting the facilities. Every day she looks forward to meet her playfellows, the kind childhood educators and teachers. She is really proud to attend PreSchool group and not the kindergarten group anymore– this fact is really important for her. After the usual initial set-up problems, during which the school has been really supportive, she has settled in very quickly. The most fascinating progress for us as parents is that after this short time she has started to speak in English – a big advantage of the bilingual education at German International School. The educators are creative in planning the children's day – our daughter enjoys the project class and English games to the maximum.
Our son (12) is attending the 8th grade at German International School. The classes are sophisticated and the bilingual education is benefiting our child. Especially the science classes Physics & Mathematics taught in English were initially challenging. Due to the small classes each student gets individual assistance and support and the students are supported according to their individual strengths and weaknesses. Having international teaching personnel, German International School has a special flair.
All in all we are very satisfied, the concept suits us as parents and we hope that in 2-3 years the reintegration into the German school system will be smooth since the children are following the Thuringian curriculum.
– December 2012
---
Family Ashok/Dell'Aquila, parents of Rajiv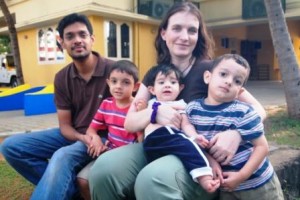 Our son Rajiv has been at the German school for one year now. We loved his kindergarten and pre-school teachers and so did he. The teachers were always available for discussions; they took the time to know him and address his individual needs. They also made sure that his transition to primary school was as smooth as possible.
What we like most about the school is that there seems to be a good balance between work and play. In primary school as well, we have good communication with the teachers. Rajiv is not under pressure to perform, but we find that he is learning a lot. He had a bit of trouble picking up German initially but now he proudly sings German rhymes at home.
Most of all, we are glad to have found a school that provides a nurturing and respectful environment.
– December 2012
---
Mr. Balaji, father of Kamali
My experience with the staff of the German International School Chennai is quite delightful. Their approach from day one was that of a "process of accommodation" rather than the usual "process of elimination" practiced by all the other schools.
You should be aware that Kamali is a Marginal Down Syndrome Child and needs lot of attention and love. After visiting quite lot of schools in and around Chennai, we found on repeated interaction with the staff members that the German International School Chennai is the perfect place for her.
Why we (Kamali's parents, pediatrician, pediatric psychiatrist, pediatric speech therapist, pediatric occupational therapist and physiotherapist) have found this school so preferable is because of the following reasons:
This school is the only school willing to give Kamali an equal place along with other children.
At German International School children are allowed to enjoy more freedom to express themselves. The school's kids meal programme is managed by professionals who seem to be well aware of the meaning of nutritional requirement of a growing child. German International School has a unique approach to address the physical, mental and intellectual developmental needs of a growing child.
Our decision seems to be right, as within 15 days of her joining German International School, we all notice a marked change in her eating, sleeping and speaking patterns.
We all are really happy about Kamali being at the German International School and thankful for the staff taking such nice care of her. We can only wish that more such children get the same kind of opportunity to experience.
– January 2013
---
Family Tartler, parents of Johanna
During our look-and-see trip, we visited several kindergartens in Chennai. We then decided to choose German International School, because the concept fits our requirements for good child care best.
We were very happy that our daughter Johanna, despite this great change of our move to India, was enjoying her time at kindergarten from the beginning. By now she picks up English more and more and tries to speak short sentences in English.
We are very grateful for the loving care provided by the kindergarten staff.
– December 2012
---
Soyoung, mother of Ara
Ara attended an Indian international school before changing to the German International School. She always was a very wild child who could not sit calm for a minute and hardly did what she was told. Now she is making good progress, in her behavior as well as in school. She already sings German songs and talks English at home. Ara loves her teacher Mrs. Anne very much. It is the first time that she enjoys going to school.
Personally, I learned that one should be brave enough to make a change.
---
Oliver, father of Lena and Natalia
I never thought our two daughters would adapt so quickly to our new life in India. The German International School has been a key contributor to that. Day after day I am impressed about their learnings which they obviously gain with a lot of fun. Lena, in the age of 5, has very quickly picked up English as a new language. Just after 3 months she understands a lot and can express herself in easy sentences. Natalia who just turned 3 years before we came to India did not speak much German. Her first language was Polish because we lived in Poland before. Now she is fluent in German and starts to follow Lena on her English path – Two true international girls at the German International School!
---
Outi, mother of Benjami
From the beginning on I was attracted by the lovely designed rooms and the warm-hearted manner of the teachers. Even it was the first time to stay away from home for our youngest son I felt confident at once. Needless to say that my expactations have been more than met! Benjami changed from our very shy little son to a lively and enquiring boy who cannot wait to get to the kindergarten every morning for playing with his friends and exploring the mysteries of life together with the teachers. It is so good to have the German International School!
---
Mr. Kyung Hwa
Within the first time in Chennai we felt that it might be difficult to find the right school for our sons. Lately, we visited the German International School Chennai and found it as a healthy and suitable place. In a short time, Se Hun and Chang Ik made a lot of friends from different countries. Along with this and the very good educational approach they improved their English remarkably. We as the parents like the school's familiar and open-minded atmosphere a lot. The children can move and develop freely under supervision and guidance of their teachers. It is a true advantage for our sons to be at the German International School Chennai.
---
Kasia, mother of Lena and Natalia
We have both of our children in kindergarten respectively pre-school at the German International School. Lena is well-prepared for primary school so that she might join her first class earlier than planned. I am very proud of her and thankful to her teachers. Natalia will follow her sister in due course, I am sure. It is already so relieving to see how Natalia joined and enjoyed her kindergarten group that fast.
---
Mr. Chang & Mrs. Jeong, parents of Seohyun
We are very much glad to say something about your website that is a gift to the parents. Parents like us are in a bound of worries of children always. The present world is moving in such way. Your website really is a remedy for this thought. And you created a separate new world to children. In this world children enjoy being very much. They can educate themselves without strain. Happy and healthy children can achieve everything in their life. Children are the gift of God and Childhood is the most unforgettable and happiest span in one's life.
The educational programmes, games, art, music and kid's movies promote and encourage the child's educational achievement. It is very difficult to choose such a right school for children now-a-days. My belief is that children are learning for life and not for exams alone. They should have some fun while learning. And your school fulfills all our need. I can happily add more and more about your school and website but art is long and life is short. As per our knowledge the German system of education is one of the best and strongest systems in the world. We believe your pedagogical approach in teaching will assist our child in strengthen her potential and coach to the highest extend.
---
Anitha and Tim, parents of Neel
Our son Neel joined the German International School almost from the very beginning, right after the inauguration. Being an Indo-German couple, we are very happy to give our son the chance to get more into the German culture and it's schooling system with modern teaching methodology being appropriate for children. In case we shift to Germany our son will be best prepared to continue schooling at a high level or visit one of the german universities.
Neel himself mostly enjoys being with other children from various countries and especially the cooking classes with the German chef Mr. Mirko.
---
Harry, father of Hari
Our son Hari was born in India but he has European roots. Someday, he will live and study in Germany or Finland and therefore he needs to be prepared. We are more than thankful to have the opportunity to send our children to the German International School where aside an excellent private teaching also values like honesty, integrity and self confidence are taught with love and understanding. What is an additional plus – the German in-house chef prepares fresh vegetarian food for our sons.
This all is what makes the difference.
---